Jose Maria Cruz Parra
Jose Maria Cruz Parra was born March 1961 in Santa Clara del Cobre at home, as were his 6 brothers and 3 sisters. All the brothers work with copper as the men in his family have done for as long as anyone can remember. His father taught Jose Maria to make sinks and kitchen tiles and he developed his own business from there. He is married to Erendira Castro and they have 3 children, 2 girls and 1 boy. For fun he likes to take his family to the beach and out to dinner for mole rojo con pollo (red mole with chicken), pescado (fish) and corundas, a specialty found in this area of Michoacan.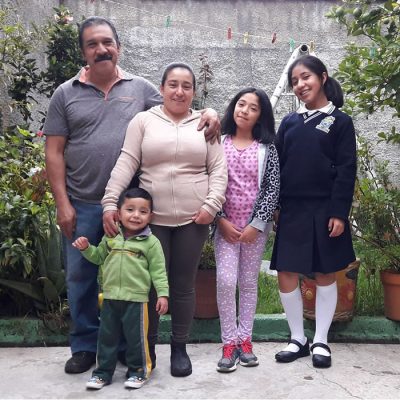 Jose Maria has been with me since 2004 when I met him through a friend. He made my sinks for several years before he gave that business to his brother, Jose Luis Cruz Parra. At my request he segued into the role of agent, receiving my orders and distributing them to the various artists, receiving completed orders from the artists and paying them, packing everything carefully (copper does dent!) and sending the crate to its new home in Portland, Oregon.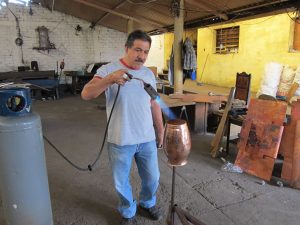 Jose Maria gives a "heat patina" to the copper which gives it an aged look. No chemicals are used, just the heat from a gas torch as you can see in this photo.